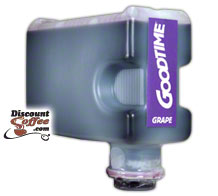 Home

Breakmate Types

Breakmate Basics

Syrups & CO2

Parts & Service

Accessories

Contact Us
Place an Order

Testimonials

Shipping
Information

Related Links


Visit the Updated Q&A FORUM and post your questions there!!
---
Customers have been asking to purchase a Breakmate system through the online cart. Normally I haven't been allowing this because businesses could just buy a machine and expect it to make soda without first thinking about CO2, water supplies, syrup, etc...

This kit includes everything you need to get a Breakmate system making soda, except syrup and a standard CO2 tank that must be purchased locally due to shipping regulations.

As for additional accessories to start off with, I would suggest the external water jug attachment (no need for plumbing).

Included in this kit:

1 New Breakmate, New in original box
1 External CO2 Adapter KIT ($149 value)
standard front panel
3 new doser valves ($125 value)
3 refillable syrup containers ($105 value)
Shipping included !! (upper 48 states only)


1 Complete Breakmate System, only a few left!
$2999

Please contact us directly via EMAIL for questions before you order
As these are new, they are untested and therefore we do not offer a warranty on them.
---



This is the standard Breakmate unit. When you purchase a refurbished machine from us, you can feel secure with a 6 month warranty. Each machine is fully cleaned and sterilized inside and out and tested extensively. Email us for more information!

GA3000 Beverage Dispenser

$559.00


$459.00
(SORRY SOLD OUT OF REFUBISHED MACHINES)
---



Just one of the many accessories available for the Breakmate is the Water Jug attachment. With this attachment, the Breakmate is totally portable! No need to attach your Breakmate to a water line. This is the recommended alternative to the Watermate attachment. See accessories page for more info.

GA3000 with Water Jug attachment

$708.00


$618.00
(SORRY SOLD OUT OF REFUBISHED MACHINES)
---



If you need parts to get your machine back to working order, we can help! We stock most parts for immediate delivery. As a dealer we have access to any Breakmate part that Coca-Cola USA sells, and even some that are no longer available!

See our parts and supplies pages to order common items online.

If you are just looking for the users manual for the machine, here it is in .pdf format.
---

Home | Breakmate Types | Basics | Syrups & CO2 | Parts & Service | Accessories | Order | Testimonials | Shipping | Links |
If you have any questions or suggestions regarding this site,
please e-mail the Webmaster. For Product Help/Info please email Customer Service.
© copyright 20010 Mr. Breakmate.com, a division of Ty's Supplies, LLC. All Rights Reserved.